Play Now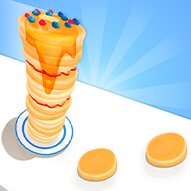 Join the most delicious obstacle run with Pancake Tower 3D! This tasty hypercasual masterpiece is here to test your reflexes while giving you an appetite for sweets! Build a satisfying pancake mountain by moving a plate left and right. Don't let it get eaten before reaching the jury!
All you have is an empty plate at the beginning. You can only move it left and right to collect the ingredients, and nature does the rest for you by bringing them together with an invincible balance. That is, of course, until you hit a barrier and lose half of your savings there. Pick up berries and bananas on your way, build a castle of pancakes, and don't fall into giant mouths waiting to bite you into pieces! Watch out for barriers and rotating obstacles. Avoid deadly saws because touching them makes you lose all you have on your plate. Some barriers are impossible to dodge as they cover all the track, but you can pass through the higher sides of them to avoid further loss. Reach the jury table with the highest tower possible to multiply your score by up to ten and get the loudest applause from your customers!
If you like getting challenged by this tasty running course, you can check out our skill games by clicking here and play more funny-themed games like this one.
Developer
YAD.Com developed Pancake Tower 3D.
Release Date
April 4, 2022
Features
Colorful 3D graphics
Creative obstacles
Easy to play
Available on mobile devices
Controls
You can use your mouse to play this game.