Play Now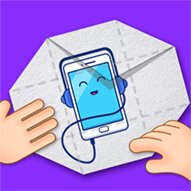 Fold layers of paper to complete pictures with Paper Fold Origami! Put the stressful daily thoughts away for a while, and relax with forty colorful and cute images! Solve addictive layer puzzles, fold colorful papers in a certain order to make pictures look complete, and move on to the next paper without a break!
This will be the simplest and most relaxing origami experience you will ever step into! These papers standing in front of you have unique drawings on each of them. They are all designed with love and light and inspiring colors. They are also marked in the spots they must be folded. There is an order to this though; folding these layers in the wrong order leaves you with an incomplete image. Luckily, you can try until you get it right without getting judged by anyone in this safe zone! Fold layers, listen to what the colors tell you, and unfold the papers to refold them into their final form! There is no failing in this addictive puzzle, but you can retry finished levels and solve them at once! Follow the order of forty unique and adorable images to complete the game! Have fun!
If you like this addictive and relaxing puzzle, you can check out Yarn Untangled and meet your fluffy new best friend!
Developer
BestGameSpot developed Paper Fold Origami.
Release Date
June 1, 2022
Features
40 colorful images
Relaxing theme
Simple and fun gameplay
Available on mobile devices
Controls
You can use your mouse to play this game.