Play Now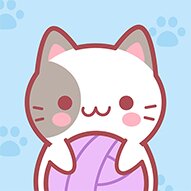 In Yarn Untangled, you get to untie yarns that were not treated so fairly by some adorable furry pals. Of purry pals. Both work. What does not work is how these mischievous small creatures can mess things up and still get away with their crimes against yarns by using their cuteness. Let's undo their offenses and adore them some more!
This relaxing puzzle creates an atmosphere of pure cuteness. You have yarns attached to each together with strings. Some of these strings are purple, while others are red. The goal is to put them in such shape that the red strings are gone while the purple ones stay the same. Some of these red ropes also turn purple, which means they are in the ideal position. Touch a yarn to put a kitten on it and slide them through the screen to align lines with other yarns. Complete these relaxing and fun levels to get approved with a big satisfied meow. Help your paw buddy undo its mistakes to make bigger ones later. Get some help from your car to cut off ropes when you get stuck. Enjoy the peaceful aura with music and cute meowing voices.
If you like light and relaxing puzzles, you can check out Poly Art which will change your point of view with amazing 3D images!
Developer
Salt Pastel Studio developed Yarn Untangled.
Release Date
April 11, 2022
Features
Pastel 2D graphics
Adorable characters and sound effects
Relaxing puzzles
Fun for all ages
Available on mobile devices
Controls
You can use your mouse to play this game.