Play Now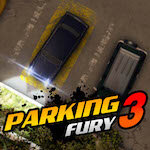 In Parking Fury 3, you can find plenty of vacant parking spaces! When you go outside in a city, finding a good spot to park your car is a big challenge. But luckily, you don't have to look too far in this game for a safe spot for your beloved vehicle!
We know an empty parking place is a rare sight in a bustling city, but you don't have to worry about opportunistic drivers who race against you to claim that perfect spot. In this game, your objective is to park your car safely in the allocated spot to pass each level. Featuring 10 different levels each with various challenges, you better start the engines and get going. You can use the arrow keys to drive the vehicles, but be careful! Pay attention to your surroundings, as you wouldn't want to get a scratch on your car by hitting the various obstacles. Getting damage will reduce your car's health and the number of stars you can earn upon completing a level. Can you reach your destination safely, and earn all of the three stars on each level?
Do you like playing with cars? Then be sure to check our collection of online car games. You can find many different games featuring different vehicles on our category page. Browse them all and enjoy!
Developer
Andriy Pidvirnyy developed Parking Fury 3.
Features
10 different levels to complete
Nice 2D graphics
Various vehicles to drive
Challenging missions to complete
Controls
Use the arrow keys to play the game.