Play Now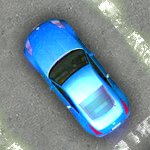 In Parking Fury, it is time for your parking skills to take the stand! Although, not the same as real life, this car parking simulation game will make you feel like you are in the car, holding the steering wheel. Moreover, you don't even have to worry about finding a good parking spot! Now, get in the car and show us what you have got!
Driving the car is something but parking it, is whole another issue to succeed! What you need to play this game can be a bit challenging. First, have your fingers ready for the arrow keys and hold tight on your eye and hand coordination skills. In this fun car game, your objective is to park the pre-selected car in the parking spot with less damage possible. You should follow the yellow arrows to find the spot and place the car in the yellow area without crossing any lines. But the camera rotation will change in every stage. So, you should plan your moves and act carefully. There are ten levels with unique designs to complete. Check your stars at the left top of the screen because each damage will lose you one. If you use up all three stars, the game is over, and you start again. Good luck and have fun!
Be sure to check our collection of free and online car games to find yourself in the most fascinating vehicles ever!
Developer
Andriy Pidvirniyy developed Parking Fury.
Release Date
July 19, 2017
Features
Colorful 3D graphics
Car parking simulation
10 levels to complete
Changing camera rotation
Controls
The right and left arrows to direct the car. The up arrow to go forward and the down arrow to go down.