Play Now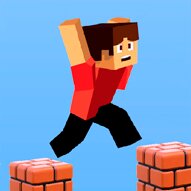 In Parkour Block 3D, the floor is covered with lavas, and you must continue. To get to the gate, jump on the blocks. It won't be easy, but if you keep your courage, you can make it through. Never give up hope on the island of fire. Never tread on the ground; instead, use the brown platforms to go forward. Is this something you can do? Let the game begin if you're comfortable with your skills. Good luck and have fun!
You are about to explore a dangerous environment. Evil powers have devastated our world, and we must now survive above the flames. The goal of this fantastic 3D skill game is to reach the purple doors and complete the levels. This journey will take you through 35 challenging levels. If you step on the lava, you will die. When you first start the game, your character is standing on a brown block. Jump on these brown platforms to go through the purple door. Control the view with your mouse and the WASD keys. To jump, use the SPACE BAR. As you go through the game, the difficulty level will also increase. Don't take a step forward without first looking in the direction you're going. Good luck and have a good time playing!
Do you want to play more games like this one? If so, take the different challenges in our collection of free and online 3D games.
Developer
Poly Games developed Parkour Block 3D.
Release Date
July 19, 2021
Features
3D colorful graphics
35 challenging levels to complete
Intuitive controls
Fun and engaging gameplay
Controls
The SPACE BAR to jump. The WASD keys to move. SHIFT to run. Mobile: Touch controls.