Play Now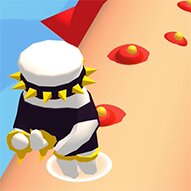 Satisfy your guilty pleasures with Pimple Pop Rush! This safe space is what every fellow popping enthusiast needs! There is no room for judgement or belittling looks, just pure and primal satisfaction of good and clean pops! Call your partners in crime over and grab some popcorn, because this is going to feel good!
If you are into blackhead removals, this is the ideal world for you! You are a giant hand walking on a giant body filled with juicy pimples and blackheads. Swipe your hand left and right, and do not let any pimples go unattended by removing them all! The hand squeezes everything automatically, so all you have to do is touch them. This human track changes with every level, bringing you more to pop! Enjoy walking over arms and backs of people with your new nails on every run! Earn gems for your secret hobby and use them at the game shop, where you can buy new skins. You can also accept flash offers between games and try a random skin by watching a short ad. Drop by the Lucky Draw once in a while to give your luck a spin and get random prizes!
If you like funny running games, you can check out Skates Sky Roller and discover a new way of skating!
Developer
PL Studio developed Pimple Pop Rush.
Release Date
May 19, 2022
Features
Colorful 3D graphics
Funny game theme
Addictive levels
Unlockable skins
Available on mobile devices
Controls
You can use your mouse to play this game.