Play Now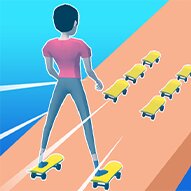 What Skates Sky Roller offers definitely does not fit the traditional sense of skating! Skating on streets, stairs, and any surface is overrated now that you can try skating on other skateboards on a track built in the skies! Get ready to break the rules in this new breathtaking extreme sport!
You can try to solve the controls before getting to the skateboards and skins waiting at the shop for you. You have one board under each foot on a deadly high track, and every board you touch is now a part of your team. These boards stack up, and you lose some of them if you hit obstacles. Move your feet close and apart to add every board you can, and watch out for doors and traps. Complete levels with higher scores to earn more and unlock new skins and uniquely designed custom skateboards. Sign in daily to claim your exclusive rewards. You can see and choose between the special offers between levels. These offers include new skins, boards, and extra gold you can use later when needed. You can also watch a short ad after a stage to multiply your earned coin by ten. Don't forget to stop by the epic store and check out limited costumes!
If you like obstacle courses, you can check out our Running Games category by clicking here.
Developer
YAD.Com released Skated Sky Roller.
Release Date
May 2, 2022
Features
Nice 3D graphics
Epic skins
Unlockable content
Easy to play
Available on mobile devices
Controls
You can use your mouse to play this game.