Play Now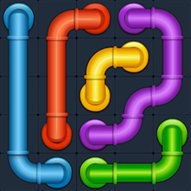 In Pipe Flow, it's time to solve some nice, colorful puzzles. The people in this building are in terrible need of water but there's something wrong with the pipes. Can you find out what the problem is and fix it quickly?
Here, come quickly! We heard that you have a solution to everything. That's why we sought you out. There appears to be something wrong with these pipes. Please, help us! In this game, your objective is to connect the matching colored pipes and move on to the next level. In each level, there are different colored pipes. You have to connect them in a way that doesn't leave any empty spaces. You have to cover all of the grid to beat the level. You can simply click on one end of the pipe and drag it to the other end. Make sure you connect the right colors and cover the entire board. If you don't you'll have to start all over again. So it's better to think before you act and consider the moves you can make. There are many levels in this fun puzzle game. Do you think you can beat all the levels and help these poor people?
If you enjoy playing puzzle games, we have a suggestion for you. Play Connect Dots by clicking here and put your drawing skills to test.
Developer
Developed by DAB3Games.
Release Date
Nov 11 2019.
Features
Many colorful pipes
Nice 2D graphics
Fun and challenging gameplay
Intuitive controls
Various levels to complete
Controls
You can use your mouse to play this game.