Play Now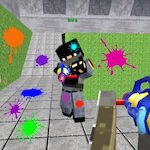 In Xtreme Paintball Wars, grab your weapons, wear your shooting glasses, and try not to worry too much about possible dye stains on your favorite shirt.
This game features 2 different game modes that you can play. If you enjoy being alone and not feeling very social, you can pick the single-player gameplay, and try to complete the campaign. This mode features many levels for you to complete. You play alone in the campaign mode, against bots. If you rather be split into teams and play with real players around the world, you can try the online multiplayer mode. But before heading into either modes, you can choose a character skin for yourself in the main menu. In both modes, you win the game and complete the level when you beat 50 players. You can see your health and ammo in the bottom right corner of the screen. Aim well, and try not to get shot that often!
If you enjoyed playing this game, be sure to check our other popular title, Paintball Racers. Have fun!
Developer
BestCrazyGames developed Xtreme Paintball Wars.
Release Date
May 17, 2019
Features
Colorful 3D graphics
Both online multiplayer and single player gameplay
Different weapon types to use against your rivals
Intuitive controls
19 different characters to choose from
Controls
You can use the WASD keys to move around. To jump, press the SPACE BAR, and for sprinting, you can use the LEFT SHIFT key. You can shoot with the left mouse button and zoom in with the right mouse button. You can cycle between weapons either with the numerals or the mouse scroll. Pressing on TAB opens the menu.