Play Now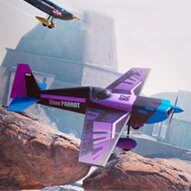 Get your flying lessons with the endless modes and challenges of Plane Racing Madness! Race against friends in multiplayer mode, practice with AI, and participate in breathtaking races on the game's unique maps! Climb your way up in the tournament and fly against the best race pilots in the world!
Car races are fun, but have you tried controlling a plane through narrow caves and ancient ruins? This is your chance. Get inside the cockpit and fly your machine while the others try to bring you down! You can choose between two modes to decide on an opponent. Solo mode matches you with the game bots, and you can pass levels to get to new maps with new challenges. Versus mode, on the other hand, allows you to bring a friend to the game and play against them. The championship has levels with increasing difficulty, and you must complete these challenges to get to the more complex ones. The arcade mode grants you the environment to practice against bots and get used to the controls. In the time trial mode, you fly against a time limit. Complete the challenges and races to earn money, and stop by the garage to unlock new planes!
If you like this flight simulator, you can check out Aircraft Flying Simulator and enjoy the realistic flying experience!
Developer
TastyCherryGames developed Plane Racing Madness.
Release Date
July 5, 2022
Features
Nice 3D graphics
Various game modes
Multiplayer option
Unlockable vehicles
Graphics settings
Controls
Use the arrow keys or "W, A, S, D" to move, spacebar for power-up, "X" for booster, "C" for brakes, and Esc to quit.