Aircraft Flying Simulator
Play Now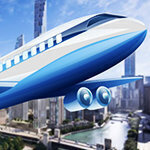 Let Aircraft Flying Simulator shape your future profession! If you have ever thought of becoming a pilot, here is a chance for you to prove your skills! The first rule of being a good pilot is ensuring the passengers a safe and fast flight. And, of course, your mission in this fun skill game is to apply the first rule. Let's see how a good pilot you would make?
Get ready to experience the life of a pilot in the fun plane simulation skill game. It may seem easy at first but controlling an airplane can be more complicated than it looks. Your objective in this simulation game is to complete challenging missions with your aircraft. You have 3 critical steps to follow. Firstly, you should make a safe and correct departure. Secondly, follow the green guidelines on your way to the sky. And lastly, make sure you are landing at the correct spot before your fuel is finished. Simply take off, follow the green path, and land safely to finish the level. Use the lever on your screen for acceleration and the wheel or your arrow keys to move your craft. Then, click on the brakes to activate them. You can upgrade the stats of your airplane as well as you can buy other crafts with your earnings after passing the levels. Have fun!
Be sure to check our collection of free and online skill games to browse more fun titles like this game.
Developer
FG Studio developed this game.
Release Date
August 27, 2019
Features
Colorful 3D graphics
7 different crafts to unlock
4 stats to upgrade
6 different areas to fly
Controls
Use your arrows to direct your plane. Drag your mouse to use the lever and the brake.