Play Now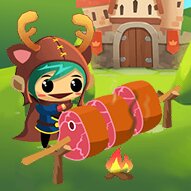 In Poke.io, the time has come! Grab your spear and show yourself on the battlefield! Do you believe you can prove yourself, become the number one player, and take down all your enemies? Then it is time for you to jump into the arena! Good luck!
Take your poke, not for a joke, let the enemy suffer a stroke! You're going to put your honor, loyalty, and bravery to the test. This will be a one-of-a-kind jousting duel. Do you believe you'll be able to rise to the top of the leaderboard in a battleground full of valiant warriors? Your goal is to use your lance to attack your opponents and be the last man standing. All you need is your mouse to control your character. To walk around the map, use the left mouse button. To earn extra points, pick the gems. When you see an enemy, charge them and don't stop until they're defeated. They have the ability to kill you in the same way, so be cautious. You will receive bonus points for each opponent you kill. You can also pick up various boosters along the road. Some will help you, while others will slow you down and make the game more difficult for you. How long do you think you'll be able to hold out against so many opponents? Good luck!
Do you want to play more games like this one? If so, take the different challenges in our collection of free and online IO games.
Developer
BPTop developed Poke.io.
Release Date
July 14, 2021
Features
Online multiplayer gameplay
New skins to unlock
Fun and addictive gameplay
Intuitive controls
Controls
You can use your mouse to play this game.