Play Now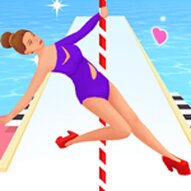 Find out how much flexibility you have with Pole Dance Battle! You don't have to be worried about your flexibility. All of the shapes that are required will be taken care of by your character. You'll only have to lead her! Walk with her through the victory using your mouse or touch controls. Let's see how many votes you can earn from the jury if you're ready! Have fun!
Have you ever considered having a career as a dancer? What's with all the celebrity and wealth? After all, you have the potential to become a celebrity. Well, your wishes are going to be fulfilled! From now on, you can have a lot of followers and even stalkers! The goal of this entertaining 3D game is to cross the finish line. You'll be traveling forward on a pole when you first start the game. You must show your dance moves while moving. To control your character, use your mouse or touch controls. To reshape her, make her go up or down. While you're moving, the colors of the shapes on the walls will change. You've arrived at the right location when the shapes turn green! If they are red, you should drag your mouse up or down a little. Collect all of the hearts that your fans offer you so that you can improve your score. Have fun!
Do you want to play more games like this one? If so, take the different challenges in our collection of free and online girls games.
Developer
YAD.Com developed Pole Dance Battle.
Release Date
July 19, 2021
Features
3D colorful graphics
Several levels to complete
Simple controls
Funny characters and a backstory
Controls
You can use your mouse or touch controls to play this game.