Play Now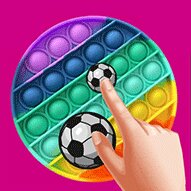 In Popit Plus, popping adventures is gaining a new challenge! Everyone loves popping the buttons and balloons to relax. In this one, you also have many different balls to collect! You can never know what kind of thrill will hit you here. Once you pop the balloon, then the balls start falling. If you are courageous enough to collect all the points and complete the levels, then let this challenge begins right here, right now!
Here is one of the most interesting pop it games ever! In this adventure, you are not only popping these colorful buttons but also try to catch the falling balls. What kind of balls will you collect? Well, it can be a volleyball, basketball, tennis ball or a baseball, perhaps? It can be all of them! Your objective is to pop all the buttons that you see on the screen and collect as many points as you can. When you pop some of the buttons, you will see balls falling from the top. Click on the same type of ball that you see at the bottom of the game screen. Some buttons will give you shiny gold coins! Each earning will give you enough points to complete your level. If you fail to collect the balls, the popped buttons will return to hunt you down! Good luck and have fun playing!
If you are looking for another amazing popping adventure as fun as this one, then be sure to check Pop It Master by clicking here.
Developer
MURAT KYABISHEV developed Popit Plus.
Release Date
July 1, 2021
Features
2D colorful graphics
Several levels to complete
Different type of balls to collect
Fun and addictive gameplay
Controls
You can use your mouse to play this game.