Portal: The Flash Version
Play Now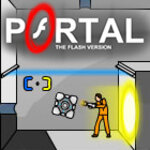 In Portal: The Flash Version, take control of test subject 15837 and try your best to complete dozens of levels with your special portal gun, ASHPD. These levels are designed to test your limits and creative thinking. Do you have what it takes to complete each of them with ease, or will you be trapped in there forever?
Welcome, test subject 15837. Your objective in this game is to escape from each level with the use of portals. You're given a special device and expected to figure a way out of each room. To start the game, click on the new game button on the main menu. The game features 40 different levels for you to complete, but you unlock them one by one, starting from the first level. In each level, you'll be given tips at the top of the screen. Use the WASD keys to control your character, and your mouse to aim and create portals. Your first click will create a blue portal, and the second one will create a yellow one. You should use these two to overcome obstacles, build momentum, and reach places otherwise unreachable. You complete a level when you go through the exit door. Good luck, 15837!
Challenge yourself and try to figure out a solution in our other popular game Love Pins, by clicking here. Have fun playing, and don't forget to browse our other games!
Developer
Armor Games developed Portal: The Flash Version.
Features
40 different levels to complete
Colorful 2D graphics
Intuitive controls
Entertaining gameplay
Challenging level design
Controls
Use the WASD keys to control your character. Us eyour mouse to aim and use your portal gun.