Play Now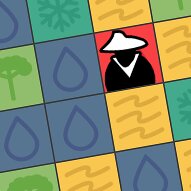 Hide in the woods and travel through mountains to hunt the enemy before they hunt you with Pounce.sh! Create game lobbies to invite some friends, search for an online enemy, or play against the bot to practice and get better at creeping between tiles! Hold your breath and step onto the board!
Welcome to the heart of the wild! This board is a giant arena with no one but you and your opponent on it! Follow every piece of evidence and find the enemy's location or blow your cover and be hunted mercilessly! Sneak on your toes, search under every tile, and roast your enemies with laser beams! Walk to the next tile or pounce to a further spot and reveal your location. Move toward a booster gun or lurk around them and wait for your prey to fall for it. Claim the bombs that create an explosion in a limited radius, laser weapons that clean out a whole tile killing everything on its way, or the revealing power to unravel your enemy's spot! Follow their moves from the top and stay close to the center to be safe when the circle shrinks. Join the ranked matches to make your place at the top!
If you like this addictive strategy game, you can check out our Strategy Games and find other games like this!
Developer
Tabortop developed Pounce.sh.
Release Date
June 8, 2022
Features
1P, 2P, and ranked options
Fun and addictive quick deathmatches
Easy controls
Improving strategy skills
Available on mobile devices
Controls
You can use your mouse to play this game.