Play Now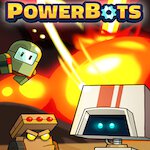 PowerBots is a superb base defending game that we need your well-made strategies! The base of the little cute robots is under the attack of evil bugs! As the best commander of the game world, you should help those poor robots to protect their base by coming up with good defense strategies. Deploy the powerbots with the help of Dexter and beat the little evil creatures now!
Never forget that all is fair in war and you have to try every path to stop this bug invasion. In this fun strategy game, your objective is to stop the attack waves by deploying as many powerbots as possible on different strategic spots to prevent the enemies to reach the base. You have two game mode options, but you will start with the normal battle mode and as you progress, you can unlock the hard battle mode. When the battle starts, click on the base and deploy your soldier from the right bottom of the screen depending on your energy. You can check your energy level and remaining lives at the right top of the screen. To direct your characters, click on one and then click on the wished spot. After winning the battles, you can upgrade your troop stats and base stats. Dexter is also happy to help you during the game. So, good luck and have fun!
If you want to protect your tower from more enemies or even start a war, then be sure to check Way of Defence.
Developer
Kizi developed this game.
Release Date
March 5, 2018
Features
2D colorful graphics
Several challenging battles to win
Various character stats to upgrade
Multiple base stats to upgrade
Controls
You can play this game with your mouse.