Play Now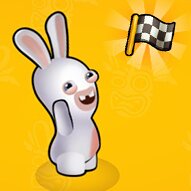 Hop around from tile to tile and stay alive while watching other players get wiped out with Rabbids Volcano Panic! Reach higher ranks and play active exclusive game modes that change regularly! Unlock the most adorable costume skins for your Rabbid and show off your style in the arena!
Start by choosing a name for your long-eared buddy. This game will represent you in the arena and both global and local scoreboards. Now you are ready for the chaotic survival match! You will be gently brought on a cloud which will dissolve after a while. If you look around, you can see eleven other players running around in panic can't wait to see others fall into the lava. Don't mind them, but consider their effect on the tiles, as they wear out and crumble every second someone stands on them. Avoid falling down levels as long as possible to be the last one standing. Pick up mysterious dice and get random boosts. Collect gold at every chance because you can use them to unlock new Rabbid skins. You can choose between nine common, eight rare, and nine legendary skins. Some of these skins require gold coins to unlock while others can be claimed by watching short ads or logging in daily. Create your dream Rabbid looks and destroy your enemies in this evolving area!
If you like multiplayer deathmatches, you can check out Mega City Racing and challenge other players in different race modes!
Developer
Ubisoft developed Rabbids Volcano Panic.
Release Date
February 14, 2022
Features
Adorable characters
Easy controls
Global and local scoreboards
Available on mobile devices
Controls
You can use your mouse or arrow keys to play this game.