Play Now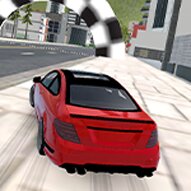 In Mega City Racing, the entire city is yours to take. Jump in your top model sports cars as you go to the best places in the city for racing. Put on your seatbelt, floor the gas pedal, and race through the city to prove no one can best you!
The whole world is only a blur around you as you race through the streets in this racing game. Feel the breeze in your face and the wind moving through your hair as your eyes are flooded with the city's vibrant colors. You can either enjoy this racing game on your own or play against a friend in the two-player game mode. There are 3 modes you can try. In the race mode, complete the laps and reach the finish line before the other players do to win the prize. In the challenge mode, race through the obstacles and reach the finish line before the time ends. In the free drive mode, drive through the city as you let all your worries go with the wind. You can also go to the theme park away from the city and perform cool stunts. With the money, you can pimp your car and buy upgrades. Have fun!
If you want to play more games like this one, you can check out our collection of online racing games. Enjoy!
Developer
RHM Interactive developed Mega City Racing.
Release Date
May 21, 2021
Features
3 different game modes
10 different cars to choose from
Upgrades to buy
Many customization options
2-player game option
Controls
As player 1, use the WASD keys to move. F to activate nitro bar. R to fix car's position. Space bar to put the brakes on. As player 2, use the arrow keys to move. K to activate nitro bar. O to fix car's position. Right shift to put the brakes on.