Play Now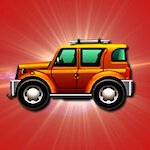 In Race Down, jump into your car and fasten your seatbelts, because you'll experience long falls! Different from ordinary roads, the track you'll drive on in this game pretty challenging. Can you trust the gravity to take you wherever you need to go?
Get ready to change platforms instead of lines in this game. Your objective is to travel down as far as you can without moving out of the screen. Start the game by clicking on the play button on the main menu. When you begin, the screen will start to scroll down. You have to keep up with the speed. Use the arrow keys to move your car, and try your best to land on the platforms. Falling out of the screen or getting caught by the upper edge will end the game, so adjust your speed accordingly. You gain points as you land on platforms. In the top left corner, you can see your current score, while in the top right corner, you can see the highest score you got. You'll see coins floating around in the level. Drive through them to collect as many of them. These increase your score. Good luck and have fun!
If you enjoy driving around, then go ahead and visit our collection page of free car games by clicking here. Enjoy!
Developer
Vi Games developed Race Down.
Release Date
April 17, 2019
Features
Colorful 2D graphics
Intuitive controls
Entertaining and addictive gameplay
An endless level to play in
Controls
You can use the arrow keys to play this game.