Play Now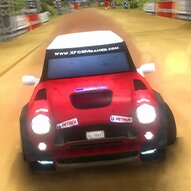 The second episode of Rally Point is now live! Are you ready to test your limits in nature? This tour will steal your breath away as it takes you from the highest mountains to the darkest valleys! You'll climb into your most recent model car and accelerate as rapidly as feasible. Are you prepared for a surge of adrenaline right now? Then let's start the game by pressing the play button! Enjoy!
You'll become addicted to this fun racing game with a 3D driving simulation and six challenging routes! Your opponent is neither a human nor a computer. The only thing that stands in your way is the passage of time! How fast can you go and still stay on track? To begin, select your car from the main menu. The first road you'll come across is Mountain Speed. Use the arrow keys on your computer to drive your car. The objective is to reach the finish line as soon as possible. Keep an eye out for potential roadblocks! You can be slowed down by them. You'll be able to go on to the following track once you've completed the first. Don't overwork the car's capabilities. The engine could overheat! If you're ready to see what else you're capable of in this thrilling car simulation adventure, start the race right away! Have fun!
If you want to play more driving games, and try another one similar to Rally Point 2, then be sure to check the first episode Rally Point, too.
Developer
Xform developed Rally Point 2.
Release Date
July 21, 2021
Features
3D graphics
Entertaining gameplay
Intuitive controls
Challenging gameplay
Controls
You can use your arrow keys or WASD keys to play this game.