Real Extreme Car Driving Drift
Play Now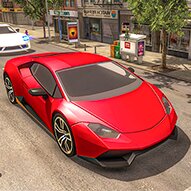 Choose between ten luxurious racing cars, roam the streets of a city built as a parkour course for cars, and wreck your expensive vehicles however you want without any consequences with Real Extreme Car Driving Drift! Use the exclusive tracks to do full flips, jump from heights, and hit other cars to let off the steam of your daily stress!
Before hitting the streets, you can enter the garage and check out what is waiting for your future purchases. You can also see the stats of your car and earn small prizes by watching short ads here. Click on the driving option to take your car out on the streets. Discover the city in the daylight using the backstreets or through the heavy traffic. It's up to you to choose between avoiding crashing into other cars or bringing absolute mayhem on them. You can also ignore them and focus on finding arenas to try dangerous stunts. Watch out for quests highlighted in the specific areas of the city. You can accept and complete these quests to earn faster. Your fuel refills automatically, and you can always click on the Repair button to refresh your vehicle. Collect gold off the streets and finish given jobs to unlock faster cars.
If you are interested in open-world driving games, you can check out Police Car Cop Real Simulator and drive a police car in a realistic 3D city.
Developer
Best Free Games developed Real Extreme Car Driving Drift.
Release Date
March 11, 2022
Features
Awesome 3D graphics
10 luxurious car options
Open-world driving experience
Exclusive quests
In-game rewards
Controls
You can use "W, A, S, D" to move, "F" for nitro, and the spacebar for brakes.