Police Car Cop Real Simulator
Play Now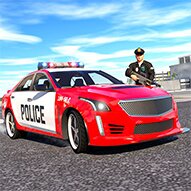 You get to play both the good and the bad cop in Police Car Cop Real Simulator! This highly detailed open-world 3D police simulator gives you the looks, guns, and action! Jump into your police car, drive around the city, and complete deadly quests. Earn money for your work and use that money to get better at it!
Start by checking your character, gun, and car. There is no way you can change them now, as you have no money at the beginning, but you can set goals and work accordingly. Now start wandering between the high buildings, or create a route for yourself. Get into your car or discover on your feet. You can always check the controls by hitting the "I" key. Enjoy the nice weather driving on the streets of this stunning city or start accepting quests to get some money. You will see these quests as blue circles of light on the streets. They are also marked on your map, which you can see at the top right. Deliver guns, reach checkpoints in time, and defuse bombs to save people. Get paid for your deeds and buy new cars, guns, and clothes!
If you like open-world driving games, you can check out Gangster Hero Grand Simulator and play as the villain this time!
Developer
Driving games developed Police Car Cop Real Simulator.
Release Date
March 23, 2022
Features
Amazing 3D graphics
Open world driving experience
Detailed gameplay
Unlockable gear and skins
Controls
Use "W, A, S, D" to move, the spacebar to jump, shift to sprint or use nitro, "F" to enter or exit your vehicle, "I" for instructions, "C" to change camera, "M" for the map, "Q" to roll, "H" for siren, "E" for inventory, and "Z" for quests.