Play Now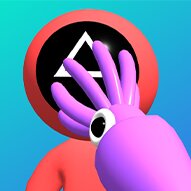 Real Squid 3D gives you the control of a jiggling squid army. These jolly guys need a hand to direct them through the right doors and you are chosen for that mission! Grow your army up to the largest number possible every run to finish with the highest records. Check the world records from the main menu and finish three hundred levels.
Hold the single squid you are given at the start and move towards the door that will raise the population of your squid army. The math skills you got out of school can come in handy at foreseeing the consequences of your actions here. You will need to add and multiply quickly enough and move accordingly to get the highest numbers. Avoid the enemies standing in your way not to lose any soldiers. You can get some help from the colors of the doors, but that must be your second option as there are times that both doors are green or red. Show the most profitable way to your jelly buddies on this long platform above an ocean decorated with geometrical shapes and help them go as far as possible!
If you enjoy this game, you can try out more skill games by clicking here.
Developer
Justforward developed Real Squid 3D.
Release Date
February 8, 2022
Features
Colorful 3D graphics
Easy to play
Addictive gameplay
Available on mobile devices
Controls
You can use your mouse to play this game. On mobile devices, tap to hold and move your characters.