Play Now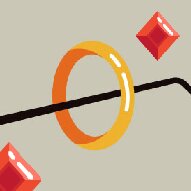 In Ring Challenge, get ready to test your high and hand coordination skills with ultimate fun! Can you make this ring move forever? The rope is not eternal but long enough to challenge you! What you are going to do is to make the ring move forward as long as you can by avoiding the rope. You can unlock new skins and add more fun to the game as well! Let's get it started, shall we?
Who may have lost their ring? We don't know, and we don't care. So, let's turn this situation to our advantage by creating a game, we thought! In this fun game, your objective is to make the ring keep going forward by avoiding the rope. If any side of the ring touched the rope, the game is over. It is difficult to get used to at first but easy to master. Once you get used to the game, you can break your scores over and over again! Try to collect as many red gems as possible. You can unlock new skins for the ring from the in-game shop. You only need your mouse to proceed in this amazing game. Click or tap on the screen to make the ring jump. Good luck, and whatever you do, don't let the ring touch the rope!
You have done an excellent job in this adventure! Be sure to check our collection of free and online skill games to show off your talents in other ones too!
Developer
MarketJS developed Ring Challenge.
Release Date
July 30, 2021
Features
2D colorful graphics
Simple theme and challenging gameplay
Simple controls
Endless adventure to enjoy
Controls
You can use your mouse or touch controls to play this game.