Play Now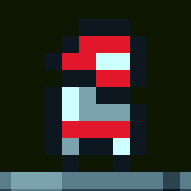 In Sector 781, be ready to battle your way through 3 realms of this Metroid Vania platformer! You will move around 25 screens to fight against your 7 different types of enemies! Do you think you can overcome this mission? Then jump in the game now! Have fun!
You have been given a secret mission by the government, so we cannot tell you this now. But you will find out when you enter the pixelated Metroid Vania world. You have to get rid of all the enemies to save the world. Don't worry! You have the equipment to do this. If you are ready to complete this mission, you start the game by clicking on the play button. You will find yourself in the middle of the map when you start the game, by using arrow keys and the space key you can move on to your way and shoot the enemies by the C key. If you hit them accidentally, you will lose a life, you can follow the remaining lives at the left top of the screen. You will find some power-ups that can be useful to destroy the enemy. Don't pass without getting them. You can always come across an enemy, don't think you get rid of them, there are other platforms too! Use teleportation to change travel around the map. Are you ready to complete your mission? Good luck!
If you want to play more action games, and try another one similar to Sector 781, then be sure to check Adventure Hero, too.
Developer
Refold developed Sector 781.
Release Date
February 8, 2021
Features
Pixelated graphics
Metroid Vania platforms
Entertaining gameplay
3 levels to complete
Controls
You can use your arrow keys to control your character, C to shoot and the space to jump.