Play Now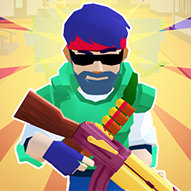 In Machine Gun Squad, your enemies are spoiling for a fight! Pull yourself together and teach them a lesson! They should know that nobody can attempt to occupy territory! Are you cold-blooded enough to destroy? Let's jump in the game and see! Good luck!
You had been living happily until the enemies attempted to invade your village. But they came and took all your peace away. Now you have to defend your village! A man's got to do what a man's got to do! If you are ready for this exciting fight, you can start the game by clicking the big start button. your objective is to complete all the levels by shooting all your enemies and stay alive. To kill your enemies, you just need to click on the target icon in the middle and hold it until you kill all the enemies. At the top of the screen, you can see the number of enemies you need to kill. If you are shoot by one of them, you will lose the level, be careful! As you survive and destroy all the enemy waves in each level, you will earn gold. You can use these golds to upgrade your stats. You will also unlock new skins and guns as you proceed with the game. Don't forget to upgrade your gun! You will need it in the upcoming 5 levels! Your most important mission is to kill the head of terrorists, shoot him middle of his forehead! Good luck with playing!
If you want to play more shooting games, and try the previous trend, then be sure to check Dead Zed, too.
Developer
YAD.Com developed Machine Gun Squad.
Release Date
December 29, 2020
Features
5 levels to pass
Intuitive gameplay
Various upgrades
Single player
Controls
You can use your mouse to play this game.