Play Now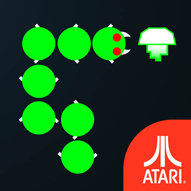 Atari Centipede is back to our screens with more thrilling adventures and higher-quality graphics now! If you're fond of trying nostalgic games like this series, an unforgettable experience awaits you in this adventure. You've only one objective to follow and that is staying alive. So, how many colors will you be able to discover by surviving the attacks of these ugly creatures?
Don't let the centipede word scares you! This one is totally a graphic behind your screen that can never hurt you! But of course, it doesn't apply once you start this fun arcade game. As you can imagine, your objective is to get rid of the centipedes and run away from them if it is necessary. You will see other kinds of bugs like spiders too, but they are less dangerous compared to our long one hundred-legged creatures. You only need your mouse or finger and unbreakable focus to proceed in this game. Click on the left button of your mouse or tap and don't leave your finger so that you will be continually shooting. Your objective is to destroy the centipedes on the board until there is nothing left of it. Once you kill the creature you will pass the level and, in each level, your lives will be refilled. You have 3 lives per level and once they finish, the game is over. Shoot everything you see and get extra points. Also, the speed of the game increases as you process, and the colors change at each level. Good luck!
If you want to try another legendary classic Atari game like this one, then be sure to check Atari Pong by clicking here.
Developer
Atari developed this game.
Release Date
February 10, 2021
Features
2D colorful graphics
Changing colors each level
Increasing speed
Fun and challenging gameplay
Controls
You can use your mouse to play this game.