Play Now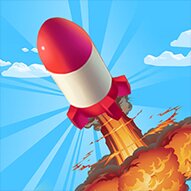 Remote-control a group of missiles in Rocket Fest! Fly through portals to add to your firepower and shoot enemy bases on the ocean! Work on your strategy and math skills, and learn to be a commander of missiles in this battle! Let's start the game and step onto the battle zone!
Welcome to the future; there are no soldiers anymore; we fight with our technologies. You can accept your role and start your first mission without losing any more seconds. Tap on the screen or click with your mouse to control your missile. You can move left and right while holding to move. Fly from green spot to green spot and add more missiles to your group. Keep an eye out for the yellow portals; they upgrade your missiles and increase their damage. Improve your attack power as much as possible before arriving at the enemy base. These bases built on the water are your main goal. Watch your missiles attack as the goal bar above fills up. You can take another turn if needed. Avoid the rocks and islands on your way to keep your rockets safe. Use your money to increase the rocket number and power from the menu. Have fun!
If you like this math battle, you can check out our Running Games to find more games like this!
Developer
YAD.Com developed Rocket Fest.
Release Date
August 18, 2022
Features
Colorful 3D graphics
Upgradable stats
Unlockable weapon skins
Increasing math skills and reflexes
Available on mobile
Controls
Use your mouse or tap to control your rockets.