Play Now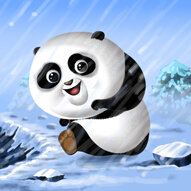 In Run Panda Run, we hope you're ready for the cold weather because we're going to Antarctica! Even if you're not ready, that's okay because our character definitely is! Are you ready to take control of this energetic panda and discover this place?
There's nothing you can do to stop a panda who wants to go for a run. Yeah, most pandas may be really lazy but this one is not. Actually, he is pretty energetic considering he's ready to jog in cold weather! But the cold never bothered him anyway! In this game, your objective is to help him run as far as he can and earn a high score. The weather conditions may be harsh, but the controls of this game are really simple. Just use the left click to jump whenever there's an obstacle on the road. The place may look like a winter wonderland, but it isn't really a safe running route. There are many gaps between roads and the bridges don't really help. You must also avoid hitting the penguins since they are your friend. Collect the coins you can see along the way to get even more points. Just how far do you think you can run?
If you want to play more games like this one, you can check out our collection of online running games . Enjoy!
Developer
Spidey Games developed Run Panda Run.
Release Date
March 6, 2019
Features
Entertaining gameplay
Nice 2D graphics
Intuitive controls
A cute panda to control and penguins to see
Controls
You can use your mouse to play this game.