Play Now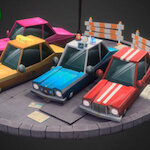 In Rush Hour 3D, it's time to hit the road! You're driving an ambulance on the highway now and you have to hit the gas to reach your destination! Unlucky for you, it's rush hour and you'll face many highway hazards and angry drivers. But nothing can stop you! Are you ready to show everyone who the best driver is?
In this endless arcade game, anything is possible. You're carrying a patient who is fighting for his life but the other drivers who are rushing to work are not going to make it that easy for you! Your objective is to drive fast, overtake passing cars and avoid the dangers of the road. Use A and D keys to move around. Weave in and out of traffic and honk your horn like it's going to magically clear the traffic jam! But be careful! If you crash into other cars 3 times, it's time to say goodbye! One of the lanes will turn blue or red sometimes. If that happens, leave that lane ASAP! Because a police car or a fire engine will come and crash into other cars in the lane! Avoid the hazards of the highway and try to drive for as long as possible to outscore yourself! How long can you keep going in this game?
If you like driving, we have other games for you that you can enjoy. Check our collection of online and free car games by clicking here to browse more titles like this one.
Release Date
January, 2019.
Features
Endless gameplay
Nice 3D graphics
Intuitive controls
Fast-paced gameplay
Controls
Use A and D keys to move. W and S keys to zoom in and out.