Play Now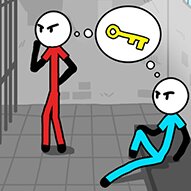 Become a completely sane man trying to escape an asylum with Mental Hospital Escape. Inspect the objects, see what is hidden, and find the keys to your freedom! These puzzles will start easy and slowly get more and more difficult as you advance through levels. Can you help this poor man stay calm and find his way back to his old life?
The first level starts as a tutorial to show you how to interact with objects. You will look for keys and mechanisms that might be of any help with your escape operation. Looking under pillows and blankets is obviously the first thing that comes to mind, but where you check after these two is up to your imagination. You can try your luck with tiles, see what happens when you interact with nurses, try to find backdoors, and get fooled with broken keys. Whichever path you choose to follow, do not anger the nurses as they are in charge here. Put yourself in this patient's situation and try not to draw any attention from the guardians. Imagine you are in that room and think about all the things you would try to escape. Who knows, maybe a pair of socks will save your life?
If you enjoy the thrill of escape games, you can check out Super Escape Masters and help our prisoners reach their cars without getting caught!
Developer
Mad Buffer developed Mental Hospital Escape.
Release Date
February 24, 2022
Features
Colorful 2D graphics
Funny stories
Easy to play
Levels of mind-challenging puzzles
Available on mobile devices
Controls
You can use your mouse to play this game.