Play Now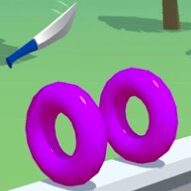 Slice everything in half in Slice It All! The greatest slice game ever is here to let you have fun. Beware that this ASMR-like game can make you addicted, though. Are you ready to swing your knife around and slice everything in half?
You will see an endless series of levels in this game. The knife you will see is in your command. You can flip it around and make it go on through the platform. Along the way of the platform, you will see many 3D objects from huge balls to high stacks of blocks. Just flip your knife and drop it on them. When you drop your knife on the objects, you will see them immediately get cut in half. At the end of the level, flip your knife one final time to stick it on a tile to multiply your coins by the number on that tile. Collect coins and use them to unlock new kinds of tools like axes. Now, relax and get ready to play this addictive 3D game for many levels!
If you enjoyed playing this soothing skill game Slice It All, you should also check out playing Slice A Lot by clicking here.
Developer
Bubito developed Slice It All.
Release Date
November 24, 2021
Features
• 3D colorful graphics
• Multiple levels to complete
• Intuitive skills
• Soothing game experience
• Addictive gameplay
Controls
You can use your mouse to rotate the knife.