Play Now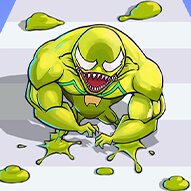 Save the world by covering yourself in slime with Slime Warrior Run! Speed up on a track built above the city, catch terrorists and gangsters with your slimy extra limbs, destroy their tanks and throw what's left of them yards away! It might not sound like an extreme superhero power, but you should see how these criminals run!
Your enemies have bulletproof shields, automatic guns, clubs, and even tanks, while you have your yellow check shirt and hands. But today, fate might be on your side because there are splashes of slime on your way! Do you know what would catch these evil men by surprise? You, covering yourself in jelly and running towards them at full speed! Let's give them the most unexpected attack and save the city! Don't let any drop go to waste, and pick up every piece while dodging their bullets. Do not crash on walls because even slime is not strong enough to bring them down. Enjoy the vengeance as gang members run away in fear after you consume their friends with jelly! Apply as much force as you can to break the last tank and throw it out of sight!
If you like running and dodging obstacles, you can check out Run Destiny Choice and make your mind about your destination in the afterlife.
Developer
YAD.Com developed Slime Warrior Run.
Release Date
March 28, 2022
Features
Colorful 3D graphics
Improving difficulty
Addictive gameplay
Available on mobile devices
Controls
You can use your mouse to play this game.