Play Now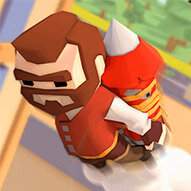 With Slingshot Jetpack, get ready to fly above the skies! This time, you are using a jetpack to flow in the air and come first in the competition. Your opponents are nearly as talented competitors as you are! The difference that will determine who the winner will be is the aiming skills. You should make a quick start, pass through the boosters, and perform an accurate end. How? Let's find it out now!
welcome to this exciting flying competition that will lock you in front of the screen for hours of fun! In this fun game, your objective is to reach the finish line as quickly as you can and complete the levels. If you want to come first, you must follow some rules. First, try to throw your character as far as it can go. Second, try to pass through the booster circles and collect the coins. Third, try to aim your character at the middle of the finishing spot. These 3 rules will earn you more coins and points. If you hit somewhere, you should repeat the level. With your earnings, you can unlock new jetpacks and character skins. Don't forget to turn the lucky wheel. Also, there is a treasure chest that you can open daily. If you are ready to win, let the game begin!
Don't leave just yet! Be sure to check our collection of free and online 3D games to browse more fun titles that you can show off your skills as this game.
Developer
YAD.Com developed Slingshot Jetpack.
Release Date
April 19, 2021
Features
3D colorful graphics
Several skins for the character
More powerful jetpack options to unlock
Daily lucky wheel and treasure chest
Controls
You can use your mouse or finger to play this game.