Play Now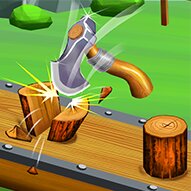 Control a hatchet with the ability to smash everything with Smash it 3D! Cut wood, bombs, and the natural flow of time with your blade and experience the consequences! Fight against your instincts and motor reflexes while trying not to get annoyed! Get better at each try and beat your best score again and again!
The controls and rules are simple: cut everything that does not explode because when life throws bombs at you, you dodge and pray! There is a band before you, and it carries all kinds of stuff: wood logs, stars, bombs, and alarm clocks. Chopping logs earns you one point while cutting them right in the middle doubles it. Missing items or directly hitting the band ends the game. Of course, you can pick up from where you left with some tricks. The first trick is to collect stars and use some to get another chance. The second trick requires you to watch a short ad to revive. Hitting a bomb also means the game is over, while smashing a clock slows the time for a short while, making it easier to aim. Perfect your timing and take control of your reflexes to take your best score higher!
If you are into games that require skill usage, you can check out our Skill Games category by clicking here.
Developer
New Gamer developed Smash it 3D.
Release Date
April 19, 2022
Features
Colorful 3D graphics
Improving timing skills
Easy controls
Addictive and endless gameplay
Controls
You can use your mouse to play this game.