Play Now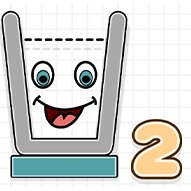 Smiling Glass is back to give a good workout to your brain engines with Smiling Glass 2! Pouring water has never been more challenging! This cute cartoon glass needs our help again, with filling itself with water, of course! Let's give it a hand and find extraordinary ways to do so!
Controls are pretty simple; click when you think the water should be running. The water is limited obviously, you can see how much of it is left by looking at the bar at the top. One would think that spikes can't hurt water, but in this game, they can. They evaporate the liquid upon touching it, so make sure your plans include avoiding them. Experiment a little to see how long it takes for the water to start pouring after you click. Now you can move accordingly. Use portals and tilted platforms to get the water to our glass buddy. Filling it up to the marked height is enough, and you get almost twice that water, so that should be a piece of cake. Well, it's not. There are forty levels of increasing challenge, new obstacles to face every few levels, and endless puzzles that require precise timing on your way. Good luck!
If you like this puzzle, you can check out Water Flow and add some colors to the game!
Developer
QkyGames developed Smiling Glass 2.
Release Date
March 28, 2022
Features
Nice cartoon theme
Easy to play
40 unique levels
Increasing logic skills
Available on mobile devices
Controls
You can use your mouse to play this game.