Solitaire Story Tripeaks 2
Play Now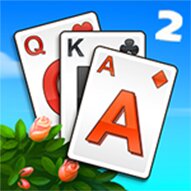 Take Foxy's paw and take a journey to the heart of the worldwide classic solitaire with Solitaire Story Tripeaks 2! Meet Foxy; he will be your guide and spirit animal from now on. He knows these streets like the back of his paw, and is willing to show you around and teach you a few tricks!
This journey will give you all you can expect from a game of solitaire: a new friend, bonus daily prizes, changing colors and themes, changing cities… You will be constantly discovering more and more features. Let's put rewards aside and get to the rules! You start every game with a card in your hand. You must continue picking up cards from the table until it is clear. The trick is that the card you want to take must be of a number higher or lower than the one in your hand. You can draw a new card from the deck if you run out of options. You can also use the coins you earn from games to buy boosters and take things easier. Don't forget to check your achievements regularly to claim your rewards and log in daily for prizes!
If you like solitaire games with lots of features, you can check out Solitaire Farm: Seasons and enjoy your life outside the city while playing cards in the evenings.
Developer
SOFTGAMES – Mobile Entertainment Services GmbH developed Solitaire Story Tripeaks 2.
Release Date
November 12, 2021
Features
Cute and colorful theme
Tutorials and hints
Daily and surprise rewards
Easy to play
Available on mobile devices
Controls
You can use your mouse to play this game.