Play Now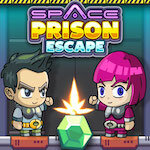 In Space Prison Escape, get ready to defy your extraterrestrial kidnappers, and try to escape from their clutches. Being held captive is not a fun thing, especially by aliens. Join your forces with a friend or take control of two characters by yourself, and break out from the prison.
These aliens may have high-tech gear but they can't hold you here forever. The objective of this game is to complete each level without dying. There are two characters in the game, and you can either control both of them by yourself or play the game with a friend by sharing the same keyboard. To start the game, click on the play button on the main menu. This game features 20 different levels that you can play and complete. In the beginning, only the first level is available and you have to complete it to unlock the next ones, one by one. To complete a level, you should figure out the puzzles and collect all the gems to reach the exit door. If any of your characters die, you'll lose and have to start again. Good luck.
If enjoy games like this, then be sure to visit our collection page of online action games by clicking here. Enjoy!
Developer
RHM Interactive developed Space Prison Escape.
Release Date
May 31, 2019
Features
Cute 2D graphics
Co-op multiplayer gameplay
20 fun and challenging levels
Different traps, obstacles and puzzles
Controls
Player 1 can use WASD keys to move around, the F key to use keys, and the W keys to jump. Player 2 can use the arrow keys to move around, the L key to lift, the K key to attack, and the up arrow key to jump.