Play Now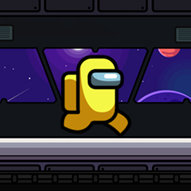 In Space Rush, your friends are being held captive, and you're their only hope! Wear your suit and get ready to run around in a space station! Can you overcome all the obstacles on your way and rescue your friends?
Space is vast, and it's endless. Are you ready for an adventure? Your objective in this game is simple and fun! All you have to do is to save as many friends as you can from the space station. You can use your mouse to play this game, so click on the play button on the main menu to start the journey. When you start, your character will run on its own, but you should make sure to avoid various obstacles on your way. From gaps to vehicles coming your way, you should press the left mouse button at the correct times to jump over the obstacles. Keep in mind that the longer your press the jump button, the higher your character will jump. To save your friends, you should run past them. This will break their cages, and they'll join you. Try to keep as many friends as with you, as you can unlock some other cages if you have more friends by your side. Have fun playing!
Check Super Oscar next for another fun game where your character runs and tries to avoid obstacles! Enjoy!
Developer
Kiz10 developed Space Rush.
Release Date
November 26, 2020
Features
Colorful 2D graphics
Fun space-themed level design
Intuitive controls
Different power-ups to use
An in-game shop to unlock various stuff
Controls
You can use your mouse to play this game.