Play Now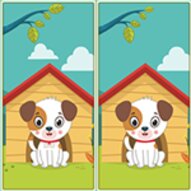 See for yourself if you have strong spotting skills in Spot 5 Differences. Get focused and try to give in your best to find out what is going on with these pictures. Can you prove that you have eyes like a hawk with this sport the difference game?
There are many levels for you to pass in this game. Now, relax and concentrate on the 2 pictures you are given. There are 5 differences in the two pictures that are otherwise the same. Colorful and joyful pictures to have fun await you to solve the puzzles! Though it seems like it is easy to find the different points as soon as you see the pictures, it may be difficult to spot all those differences. Especially, given that you have limited time, you need to be quick. If you can't somehow wrap your head around the differences between the two pictures, you can always get a hint by clicking on the button with the magnifying glass. Now lean back and try to relax with the soothing game music while you're solving these fun puzzles!
If you enjoy Spot 5 Differences, you can also take a look at Spring Differences by clicking here.
Developer
Lof Games developed Spot 5 Differences.
Release Date
September 24, 2021
Features
Cute pictures
20 levels to complete
Intuitive controls
Addictive gameplay
Controls
You can use your mouse to mark the spotted differences.