Play Now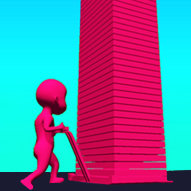 Stack Colors! is a fun skill game! Your little man is bored, he needs some fun activity! So, he wants to collect colorful plates and throw them! But he cannot do it on his own, he needs your help to move him! Can you help him to collect colored plates correctly, or will you let him be bored eternally? If you feel ready, start the game!
Stacking sound like a fun activity, but in this game, there are some rules! The rubber cannot stack them as he wishes! He can only collect those plates that are the same color as him. You can move your little man left and right with your mouse to swipe or your arrow keys to collect all the correct colored plates on the ground. Sometimes all lines can be the same color, sometimes the plates may be spread out to the ground. The more you collect, the more points you will get! Be careful! When he passes through the colored beams, his color changes! When he collects all the plates and reach the finish line, click on the screen as many times as you can to speed him up and throw the plates as far as he can to get a bonus score! As you pass the levels, more color will be added to the game! Also, there will be some obstacles like blocks that your man shouldn't hit and some coins to collect. If you are ready to make him fun, start the game!
Do you trust your skills? If so, take the different challenges in our collection of free and online skill games.
Developer
YAD.Com developed Stack Colors!
Release Date
June 24, 2020
Features
3D graphics
Improving skills
Levels to pass
Matching game
Controls
You can use your mouse or keyboard.