Play Now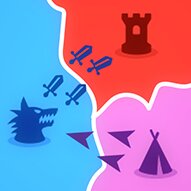 Conquer states and paint a whole nation in your colors with States io! Compete with other colors and beat them by building strategies! Advance through challenging levels that get consistently more difficult, and fill countries with your symbol! Discover new maps at every level and learn from your failures to master the art of expansion!
In the beginning, all sides start with ten men on a map covered mostly by neutral states. When you send your men to a state inhabited by a population of ten neutral or enemy men, you first take them down to zero and then claim the land to start building up your numbers there. You win when the total population of enemies hit zero. Every victory brings you coins you can use to upgrade the regeneration of numbers, the population you start levels with, and your income. You can also triple your earnings by watching a short ad at the level endings. Evolve with your enemies and reach the highest numbers. Upgrade your features for some help, or do not touch them at all to take the challenge to another level! Unlock new colors and symbols for your men and bases. Work on a real map and build tactics for different continents!
If you like this strategic challenge, you can check out our Strategy Games category by clicking here.
Developer
2Play developed State io.
Release Date
February 7, 2022
Features
Easy to play
Improvable stats
Unlockable skin content
Available on mobile devices
Controls
You can use your mouse to play this game.