Play Now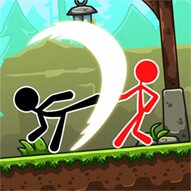 Get ready for an epic fight in Stickman Archero Fight! You are the bravest stickman around and you are known for your epic fighting skills. Now, start running through the hills and attack all your enemies. Can you take them down before they take you?
This is a detailed and engaging fighting game. As one of the best genres that can be met with stickmen, you are invited to fight off your enemies in this game. There are two vast worlds open for your selection. Within those, you can enjoy fifty levels full of adventure and action. Run up and down the hills and run over your enemies. If you lack the speed to attack your enemies, you will see that they have no hesitation to attack you. So, be quick and spend no time grabbing any object around you. Pick up the objects or weapons around you with the E key and throw it at your enemies by pressing the E key again. Feel free to use the money you gain to unlock chests of bonuses, skills, or accessories for your character!
If you enjoyed playing this fighting game, you should also check out Stickman Fighter: Epic Battles for another action adventure!
Developer
Stickman vs Monster School Team developed Stickman Archero Fight.
Release Date
June 27, 2022
Features
• 2D colorful graphics
• Interactive gameplay
• Addictive gameplay
• Intuitive controls
• Talents, weapons, and bonuses to unlock
Controls
You can use the WASD or the arrow keys to move the character. Pick up and throw items with the E key.