Play Now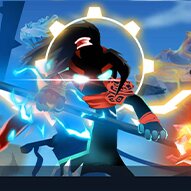 Choose your champion among the strongest generals of a fantasy kingdom and kill your way to the top with Stickman Hero Fight! Get a selection of the most powerful heroes, upgrade their stats, special skills, and equipment to increase their power scores, and face mighty enemies! Open chests at the end of each level and watch your favorite character develop!
Welcome to a stunning dark-fantasy world full of savage monsters and godlike enemy bosses! You will wander through the corners of paradise and depths of hell on your journey. Just choose the best type of attack for yourself and adapt to your character's special qualities! You get three character options with three different attack ranges. They all have unique skills with mind-blowing animations. Move forward to the left of the platform, take your place, and shower the enemy forces with mighty blows! Feel the satisfaction of melting their health bars with consistent damage and watch them pile on the ground! Rule the battlefield to move on to the next arena and complete levels to open the treasure chests presented to your character. Equip the strongest gear, use gold to upgrade them, and increase your strength by improving your skill stats! Survive the toughest levels to face top-tier bosses!
If you like this immersive and fantastic battle, you can check out Shadow Ninja Revenge for another thrilling story and breath-taking combat!
Developer
BotaGame developed Stickman Hero Fight.
Release Date
June 28, 2022
Features
Colorful 2D graphics
Nice battle animations
Daily rewards and events
Upgradable stats, armor, and weapons
Available on mobile devices
Controls
You can use "A, D" to move and your mouse to attack.