Play Now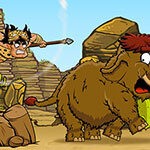 In Caveman Hunt, prove to everyone that you're the best hunter! Life in modern times is difficult for sure, but it's nothing compared to prehistoric times. And this poor fella is so hungry that he can hear his stomach growling. He's blinded by hunger and ready to do anything to catch that woolly mammoth. Maybe you can help him! Are you up for the challenge?
Oh, the things this caveman can do for food His love for food knows no limits and he has his eyes on a delicious mammoth! But he has to be quick and take him down before his friends Diego and Sid comes. Three against one just doesn't sound so right. Your objective is to help him and throw him at the mammoth using a slingshot. Just click on the screen to set your angle according to the moving arrow. And click once more to set the power. Well done! We wish you a nice flight. If the caveman can't keep his feet above the ground for long, just give a him little boost by clicking your left mouse button one more time. There you go! Other animals and trampolines can also help you along the way. You can also gather power-ups for him between the levels and buy upgrades. Do you think you'll be able to catch the animal?
Oh, looks like our caveman has finally managed to eat some food. Good for him. He couldn't do it without your fine skills. Speaking of skills If you want to help our other characters, just visit our online skill games category and browse other titles. Enjoy!
Developer
Developed by Lagged.
Release Date
August, 2017.
Features
Different upgrades to buy
Fun gameplay
Easy controls
Nice graphics
Controls
Use your mouse to play.