Play Now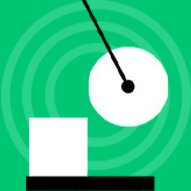 Welcome to the most relaxing challenge of your life with Swing Blocks: we have good music, calming colors, and endless chances. Don't let it get you too comfortable though; you will have a hard time with all the physics classes you have ditched.
You have two options: rectangles and circles. Rectangles are hard enough, but it gets even harder with circles. Despite the chill music and colors of nature this game offers you, you might find it difficult to stay calm. With every level, you will get your patience tested. The objects come swinging on a rope and all you have to do is cut them off by simply clicking. You can try to align the objects on the platform or build a tower if you are feeling in shape. Don't let the bending platforms and corners fool you, nothing here is what it seems. Just keep the swinging force in your mind, wait for the right time, and slash! There goes your circle, flying out of the screen. But don't worry, you can try however times you want. Improve your balance and sharpen your skills with this simple and pleasant challenge.
If you would like to play more games like this, you can check our skill games category here.
Developer
LoraStudio developed Swing Blocks.
Release Date
December 7, 2021
Features
Relaxing music
Easy controls
Simple 2D graphics
2 different difficulty options
Fun and addictive gameplay
30 different levels in each difficulty
Controls
You can use your mouse to play this game.