Play Now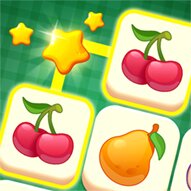 Match delicious fruits with less than three moves in Tasty Match! Lose yourself in the bright summer colors, addictive levels, and nice graphics! Challenge other players on your run to the top and complete levels in the least time to keep your place on the throne!
This Mahjong-like journey of fruits has everything you could ask for in a puzzle game! Amazing player-friendly design, surprise rewards, satisfying prizes, lovely graphics, fabulous effects, and most importantly, the juiciest fruits! So, take a second to ready yourself before diving into your new addiction, and let's step in! Each level comes with a time limit, and you must pair all images before the time runs out to complete the level. There must not be any obstacles between the two identical images you want to match. It must not take more than three moves to tie them. Some moves can make the table move, so learn the level's movement system and plan your game accordingly. It's quite natural to struggle, but do not worry; that is what clues are for! Click on the buttons at the bottom to get a clue, or shuffle the tiles for a fresh look! Have fun!
If you like this juicy matching puzzle, you can check out Tile Mahjong to challenge yourself in another game of fruits and vegetables!
Developer
OOO Z-Media developed Tasty Match.
Release Date
June 20, 2022
Features
Lovely images
Amazing visual effects
Easy to play
Surprise prizes
Available on mobile devices
Controls
You can use your mouse to play this game.