Play Now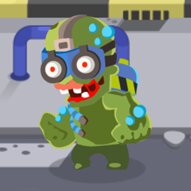 Take your place in the war between humans and zombies with The Great Zombie Warzone! Command the last soldiers of your kind, level up and place them strategically, and keep the hopes of humanity alive! Make the undead shiver in fear with your battle tactics and win the last war after the zombie apocalypse!
Join your soldiers in the front line and witness the last battle of the human race with your own eyes! Use your legendary strategies once more to save the world from the reign of the undead and regain your freedom! Start with the first level and adapt to the new world while facing the lightest enemy attacks and relatively smaller enemy waves. Choose a soldier and place them on the battlefield. Putting tanky soldiers with shields in the front line works up to a point, but consider that your armed soldiers have a limited range, and they cannot shoot enemies with high ranges without losing the soldiers placed between them. Touch the falling gems and coins to collect them and buy new soldiers to fill the spaces. Unlock new characters on the main menu between matches to keep up with the enemy's strength and upgrade your soldiers!
If you like games that require battle tactics, you can check out our Strategy Games and find more games like this!
Developer
kiz10.com developed The Great Zombie Warzone.
Release Date
June 23, 2022
Features
Colorful 2D graphics
Funny and cute character design
Unlockable characters and upgrades
Increasing strategy skills
Available on mobile devices
Controls
You can use your mouse to play this game